Conference excursions are organized in cooperation with the Šugaman tours travel agency from Split. All reservations should be done by contacting the agency directly by e mail at info@sugamantours.com, please use code "IOR-SCLERO" to identify that you are booking as the Conference participant. By the way, the word "šugaman" in Split dialect means towel – reminding you to pack your beach towels for this Conference

There are two excursions planed – to cater different interests and abilities of participants. Both excursion involve bus/van transportation.
About an hour drive from the Split, this National Park is a known for its lakes and waterfalls. At the start of the Krka tour we will visit Skradin, a pretty little riverside town with a combination of brightly painted and bare stone houses of its main streets and a ruined fortress towering above it. From Skradin we will take a panoramic boat ride through the Krka canyon towards Skradinski buk, presenting all the beauty of the surrounding area. After a picturesque panoramic boat ride you stop at Skradinski - the largest travertine cascade system in Europe. The walk through the park will be truly serene: myriad waterfalls glazing in front of your eyes while you walk a network of wooden bridges and boardwalks and the sweet scent of pine fills your nostrils. We will continue our walk with educational trails through nature and an authentic ethno presentation that reveal how river water kept the life thriving in this area throughout centuries. Remnants found from thought the history like stone houses and watermills have been turned into souvenir shops and exhibition spaces. Return to Split is planned in the early evening. This is a relaxing excursion and one of the most recommended excursions for people visiting the Split area.
Cetina river canyoning – price 53 EUR
Clear water, green surroundings, fresh air, running, swimming, climbing …all wrapped into one exciting tour you'll be sure to remember for a long time to come! If you like living every moment to the fullest, always seeking adrenaline, we have the perfect day-trip planned for you. After a short drive you will feel like you are transferred into another world; green surroundings and silence reveals adventure luring around the corner. So gear up, listen to your guide and start exploring. You will be walking, jumping and swimming for over 2 km and the refreshing water temperature will keep you focused and relaxed. The thing about the Cetina canyon is that if you haven't hiked, it is like you haven't seen it. Basic canyoning program includes walking and swimming through the Cetina river rapids, swimming in crystal clear natural pools, cliff-jumping in the lakes by the waterfalls of river Cetina.

Talk about adrenaline rush! This excursion is not for everybody – please be ready for little exercise. If not sure – please contact the conference organisers for advice - isc2019@izor.hr. It is nothing too extreme but it definitely isn't just "walk in the park"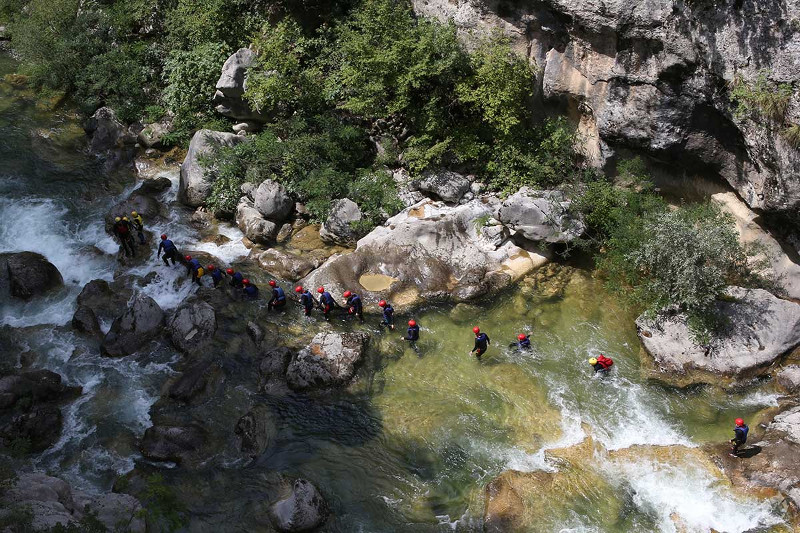 There are many other beautiful places in the Split area – do consider extending your stay before or after the conference.