The SIPAM network consists at present of a Regional Centre, located in Tunis, and ten National Centres located in Croatia, Cyprus, Egypt, France, Greece, Italy, Portugal, Spain, Tunisia, and Turkey. The Regional Centre has its own offices in the premises of the Ministry of Agriculture of Tunisia, and the National Centres are in the following locations:
Tunisia:
at the General Directorate for Fisheries and Aquaculture,
Ministry of Agriculture Tunis

Cyprus:
at the Division of Aquaculture, Department of Fisheries;

Egypt:
at the General Authority for Fish Resources Development, Cairo;

France:
at IFREMER station of Palavas les Flots;

Italy:
at ICRAM, Rome;

Portugal:
at the Secretaria Geral, Ministerio do Mar, Lisboa;

Spain:
at the Spanish Institute of Oceanography, Madrid;

Croatia:
at the Institute of Oceanography and Fisheries, Split;

Turkey:
at the Scientific and Technical Research Council of Turkey, Ankara.

Greece:
at the Institute of Marine Biology of Crete;

Morocco:
Institut National de Recherche Halieutique (INRH);

Malta:
The National Aquaculture Centre (NAC)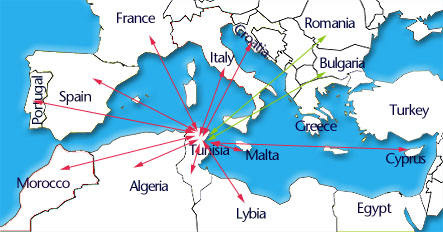 | | | | |
| --- | --- | --- | --- |
| | already linked to sipam | | in process to be linked to sipam |
The National Centres are conceived to be used by the national aquaculture community to collect, organize and use local aquaculture data. Being part of a regional system, they will also receive similar aquaculture related data from other countries of the region and from FAO, via the Regional Center. The Regional Centre is linked to the FAO Fisheries Resources Division of the FAO, Rome, Italy, which ensures the technical supervision of the system and liaison with the Aquaculture Committee of the GFCM. The Centre is conceived to be a unit to service the National Centres, including provision of training in the operation of the system. Its main job consists in collating and verifying the national data coming from the participating countries, the compilation of a regional aggregated data base and its redistribution to the National Centres. In addition, the Regional Center is intended to respond to additional needs, in terms of information data bases and analytical tools identified by the National Centres and partner institutions which coordinate the other GFCM supervised aquaculture networks.